Menus and sidepanels in Mabox are highly configurable, both in terms of appearance and the commands they provide.
The appearance settings can be divided into several groups: dimension settings, color schemes, fonts and icons.

This post is outdated as of January 2023.
Use Colorizer…

The best way to configure the appearance of the menu and panels is to use… the menu called Menu/Sidepanels settings – keyboard shortcut super + alt + m.
(It is also available from the Main menu super -> Mabox Config and from the Left sidepanel ctrl + super + left)
After changing a given setting, the menu will automatically refresh so that you can see the effect immediately .
Dimensions and Fonts
Here you can set:
Menu Border
Padding – distance between border and menu items
Rounded Corners – only visible with compositor
Submenu Spacing – distance between menu and submenu
Panels Height/Position is for controlling place where sidepanels appear. By default they compact and centered, but we can set them on top or bottom with a gap. Or set them to full height.
(when full height mode is used rounded corners have no effect)

Fonts
Select font size and font family here.

Color schemes
The menus and panels in Mabox are built on the basis of jgmenu (heavily scripted) – they give a lot of possibilities in terms of color adjustment, including gradients and transparency (when using the Picom composition manager).
A lot of color schemes are provided by Mabox by default, and it's also very easy to tune them or create a completely new one.
To quickly see some color schemes use Left Sidepanel ctrl + super + left -> Random Menu ColorScheme
There are several color scheme items in the menu:
Choose… let you choose from all available color schemes
Edit current… opens active color scheme file in Geany editor to let you fine tune it
Random
Same as Openbox theme – menu color scheme will follow Openbox window decorations
Gradient direction – set gradient direction if gradient colors defined
How to create your own color scheme?
If you want to create your own color scheme for menus and sidepanels, it's not at all difficult. Mabox provides two base color schemes, both in shades of gray – they can be a good base for your own creations:
base-text-dark
base-text-light
Just copy one of them, giving it a name of your choice.
cd ~/.config/mabox/jgobthemes
cp base-text-dark.colorrc my-new-scheme.colorrc

Set it as active colorscheme and select Edit current…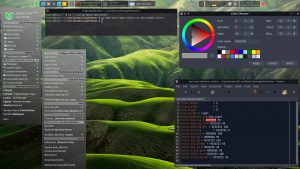 In the Geany editor you can use the color picker to easily change the colors.
You can also adjust transparency. 0 to 100 placed after color code ( 0 = full transparent, 100 = opaque )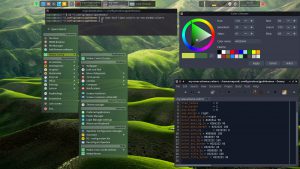 It requires a bit of patience and practice, but you can get some pretty interesting results. If you are satisfied with your new color scheme, don't forget to share screenshot and .colorrc file with the community on the forum.
Icons
The last thing are options to set icons theme for menu.
You can choose icon theme here or just disable icons completely.
Stay tuned for next article… we will learn how to add custom commands to menu and sidepanels.