New release Mabox Linux 20.10 Eithné is just around the corner:) is ready to download.
Download at: SourceForge or here.
Here is detailed but probably uncomplete list of changes.
Full Spanish translation
Mabox is now fully translated to Spanish, thanks to @ben_chile.
All Mabox specific tools like Mabox Control Center, Welcome Screen, Conky/Tint2 Manager, Menu/Sidepanels and even Installer slideshow are fully translated. Conky config files and tint2 panels also translated.

Only one ISO
No more language specific ISOs, there is only one.
Select appropriate language and keyboard at boot time.

Software Packages
As of this release, Mabox always ships the LTS kernel by default, this time linux 5.4.67
Most of packages comes from Manjaro Stable repository as of 2020-10-01.
Some packages comes from MaboxLinux repository.
Some changes:
– bashtop replaced by its faster, lighter and more featured succesor bpytop
– zensu (gtksu) replaced by yadsu
– Espanso – text expander added with addition of little jgmenu helper (W-A-e)
Menu / Sidepanels improvements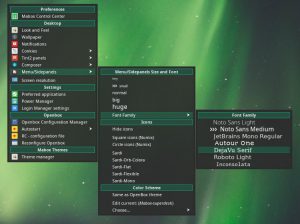 The side panels and the menu have received many improvements.
Now you can easily:
change size and font
Show or hide icons
select icon theme
choose color scheme (by default menus/panels follows openbox theme)
tune up color scheme to your liking
Autostart handling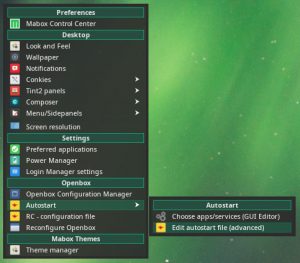 Autostart of most common services/applications can be managed by Mabox's Autostartu GUI.
You can ebnable/disable for example:
Picom Compositor
ClipIt – clipboard manager
Volumeicon
Hot Corners
Update notifier
Power Manager
Bluetooth Manager
Conky Manager
Gkrellm system monitor
Advanced users can still use traditional Openbox's autostart script.
Easier Tint2 panel configuration with GUI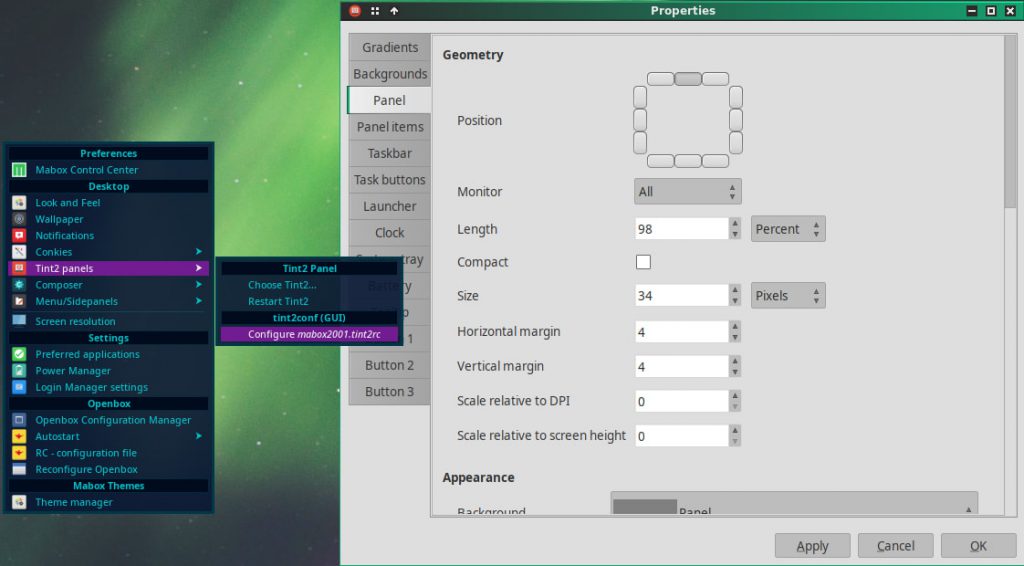 Tint2 panel configuration is now less confusing. Go to Settings Menu (W-s) – Tint2 Panel
Dynamic menus (pipemenus) and helpers
There a bunch of improved and brand new menus /helpers.
Themes
Theme Manager (forked from BunsenLabs BLOB) now saves also menu/sidepanels settings: size, font, colors (theme), icons.
It works better when changing theme – no more need to logout after change to have 100% effect.
Enjoy 🙂