Creating a nice looking desktop in OpenBox WM is not an easy thing.
There are a few bricks you need to include to create a nice and good looking desktop.
GTK theme, OpenBox window decorations, matching wallpaper are the absolute minimum. It would also be worth adding the matching Conky and panel decor.
Mabox provides several ready to use, predefined themes.
Each of them includes:
– GTK theme
– Openbox windows decoration
– wallpaper
– Tint2 panel theme
– Conky configurations
– and the theme of the Menu and Side Panels (based on jgmenu)
How to change the theme in Mabox, or create your own?
Mabox uses the BLOB theme manager from BunsenLabs, or rather its forked version.
BunsenLabs is a great distro, if you like OpenBox and are a Debian on desktop fan – be sure to give it a try!
Just go to Menu W (super or windows key) -> Settings -> Theme Manager.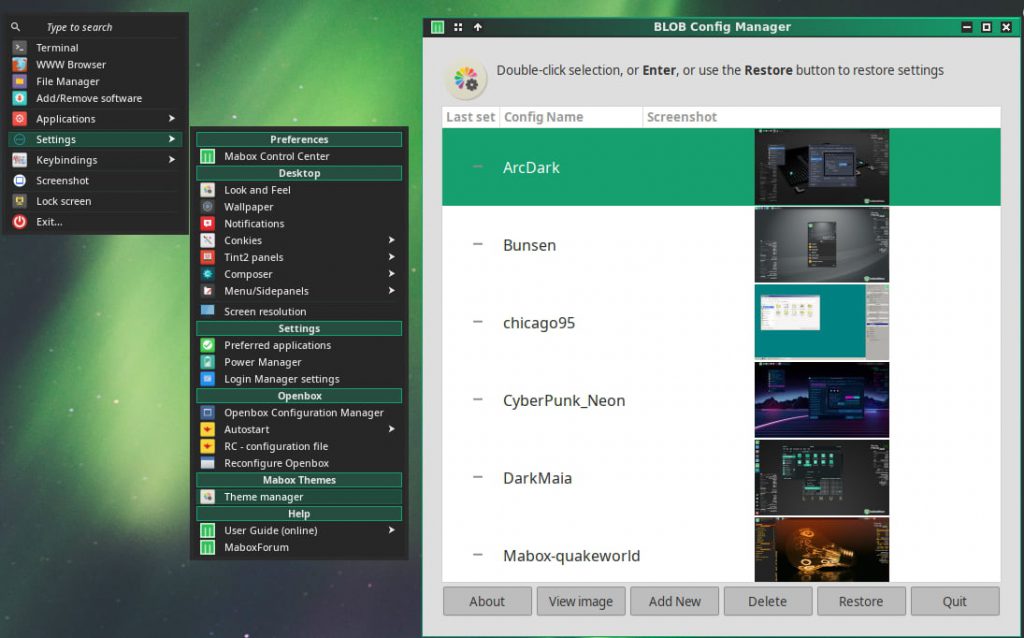 You can choose from a few predefined themes, just double click on picture or press Restore button.
Selected style will load in seconds, including wallpaper, GTK / Openbox style, Conky, tint2 configuration and menu.
Off course you can also save your own configurations here.
If you made nice theme by yourself don't forget to share a picture on forum in a monthly screenshot thread.
Here is a video with overview of themes included by default in Mabox 20.10.